Image background removal service means removing the background from an image which may be a tricky task, sometimes a complex work as well. But if you know the right process it might be easier and more effective to remove the background from the image. You can perform this task in Photoshop or PowerPoint but I think Photoshop is the best because this software is very easy to use. Now read the importance of image background removal service.
The importance of Image Background Removal Service?
The question may come to your mind why you will remove the backgrounds from the images. There are some good reasons behind this:
1. Background may be unwanted for aesthetic value:
It is natural to remain undesired items in your image although you have taken it with your latest DSLR or a nice Smartphone. When you're going to design something with this image, background on the image may be undesired and you feel the necessity to remove it for aesthetic value.
2. To give a unique touch to your product image:

Unique images can play a vital role to boost your business. Now, there is no alternative to background remove in this respect. If you want to give an excellent look to your product image you must impart a stunning background to your photo and you can ensure it by taking background removal service.
3. To make images look exactly the way you want:

Sometimes, images look blurry and dull because of disturbing objects on the background. Even though they've been shot by a professional photographer and you won't love these unwanted backgrounds on these images. Here, you'll need to change the backgrounds of the images to make them look to the way you want.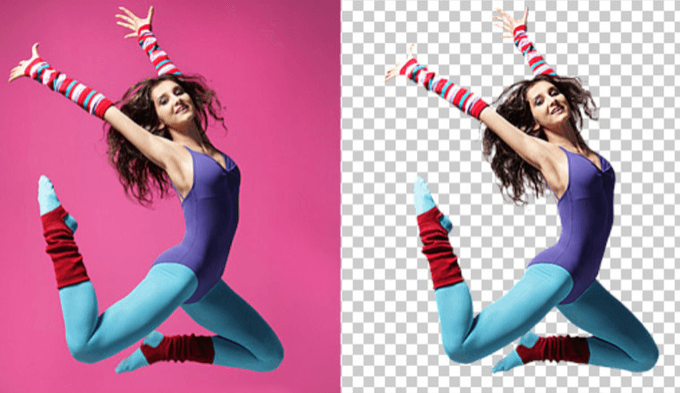 Figure: Changing Background Image for eCommerce site.
4. To make images attractive and enticing:
When you take photos they are sometimes shot in limitation. At the same time, we can see that some particular backgrounds are not ideally perfect, of course, there are some reasons as well. When you take multiple images, some of them capture the background very well and some others capture the foreground very nice. The foreground nice images may not look very fine for uninteresting backgrounds and you need to remove the backgrounds to make them outstanding and alluring.
5. To bring the image normality:

Unwanted objects on the background might hamper the normality of images. If your images may fail to give the desired effect for unnecessary background, then it becomes crucial to change the background. And you can bring them to normality by taking background remove services.
How will you remove the background from the image in Photoshop?
To remove the background from the image in Photoshop, you'll have to follow some steps:
1. You'll have to load the image in Photoshop and then turn it into a new layer.
2. As there are many tools named Lasso Tool, Magic Wand Tool, Quick Selection Tool, Color Range
In Photoshop, you should choose one. After selecting a tool, you have to perform the tasks of refining the selection. And then you'll be able to remove the background. In this article, we have written the short process. For the full process of image background remove, you can contact us.
Figure: Jewelry Background removal service
If you're expert in image background removal task, that's good. But if you're not skilled in this task you might be the main cause for damaging the look and view of your image. Removing the backgrounds of images with the professionals is always a good choice and should be preferable.
We are a leading clipping path service provider and ensure best background removal service. We have an expert team that works for 24 hours and 7 days a week to guarantee timely delivery. Free trial option is available. We can remove disturbing objects from images, remove the background from any kind of images, change background images and do anything to make your image virtually more attractive and outstanding.